Ormond Beach Villas Affordable Housing for Veterans Breaks Ground in Oxnard
The Ormond Beach Villas has since been constructed, opened and is now housing veterans. The Oxnard Housing Authority is still accepting applications from veterans to get on their waitlist. Click here to apply.
Nearly 100 people attended a ground-breaking ceremony Wednesday morning in Ventura County to kick off construction of a new affordable housing development that will benefit 40 veterans and their families.
The project is a joint effort of the California Department of Veterans Affairs (CalVet) California Housing Finance Agency (CalHFA), California Department of Housing and Community Development (HCD), Many Mansions, L.A. Family Housing, the City of Oxnard, and Ventura County.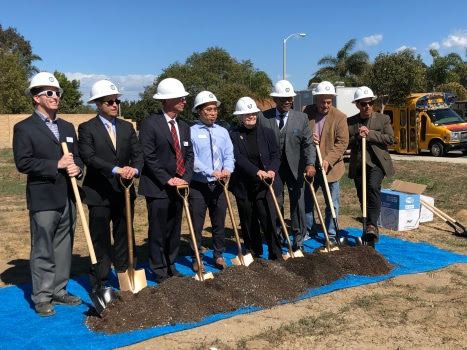 After receiving $5.6 million from the Veterans Housing and Homelessness Prevention (VHHP) program, Many Mansions announced the new 17-month construction timeline of the Ormond Beach Villas – a development consisting of five three-story buildings slated for a currently vacant 1.81-acre lot just a few blocks from the beach in Oxnard.
"This is the first mixed-use project for the VHHP program and CalVet is pleased to be with so many outstanding state and local partners," Deputy Secretary of Veteran Services Keith Boylan said. "The tremendous collaboration throughout this effort has truly made this project a reality."
Eight of the Ormond Beach units will be reserved for chronically homeless veterans, while 10 units will be for homeless veterans with a disability, and 21 units will be reserved for low- and very-low income veteran families.
L.A. Family Housing will provide veteran-specific services to the residents of the complex, while Many Mansions will provide child and family services.
"Not only are we offering 40 veterans and their families a new home, but we're creating a residence that's more than just four walls and a roof," said CalVet Secretary Dr. Vito Imbasciani. "Through our partners, we're establishing services to help many of these former service members get off the street and back on their feet."
Located on Saviers Road near Hueneme Road, the site is within walking distance to Southwinds Park, Art Haycox Elementary School, Perkins/Hueneme Bus Stop and Clinicas Maravilla. The development will also be 1.5 miles from the Naval Construction Battalion Center in Port Hueneme.
The project features a total of 15 one-bedroom units, 20 two-bedroom units and 5 three-bedroom units. Each unit will have a separate ground-level garage, on-site storage, and a spacious patio/balcony.
For more information, please visit: www.Manymansions.org.

---
Proposition 41, passed in 2014, authorized $600 million in bond proceeds to fund supportive, transitional, and affordable housing for veterans experiencing homelessness or are at-risk of homelessness. The resulting legislation created the Veterans Housing and Homelessness Prevention program, where CalVet, HCD, and CalHFA collaborate to award $75 million annually through a competitive award process.
Many Mansions – Many Mansions provides affordable housing for low-income individuals and families, and supportive housing for individuals and families who are formerly homeless and/or have a disability in Ventura County. A specially designed supportive services program is offered on-site at each of these properties. This unique program is meant to provide safe, family-friendly housing with life-enriching services designed to bring the family out of poverty and into a prosperous life. Find out more at www.ManyMansions.org.
California Housing Finance Agency – For more than 40 years, CalHFA has supported the needs of renters and homebuyers by providing financing and programs so more low to moderate income Californians have a place to call home. Established in 1975, CalHFA was chartered as the state's affordable housing lender. The Agency's Multifamily Division finances affordable rental housing through partnerships with jurisdictions, developers and more, while its Single Family Division provides first mortgage loans and down payment assistance to first-time homebuyers. CalHFA is a completely self-supporting state agency, and its bonds are repaid by revenues generated through mortgage loans, not taxpayer dollars. Learn more at www.CalHFA.ca.gov.
California Housing and Community Development – Cal HCD is dedicated to the preservation and expansion of safe and affordable housing so more Californians have a place to call home. Our team works to ensure an adequate supply of housing for Californians and promotes the growth of strong communities through its leadership, policy and program development. For more information, please visit www.HCD.ca.gov.
California Department of Veterans Affairs – CalVet's mission is to serve all of California's veterans and their families. With nearly 1.7 million veterans living in the state, CalVet strives to ensure that veterans of every era, and their families, get the state and federal benefits and services they have earned as a result of selfless and honorable military service. VHHP communities are one way we assist veterans and their families achieve their highest quality of life. To learn more on how CalVet assists veterans, visit www.CalVet.ca.gov.